Commercial Carpet
Seattle | Bellevue | Redmond | Kirkland | Lynnwood | Everett | Edmonds | Bothell | Mill Creek | North King County | South Snohomish County
Commercial Carpet Applications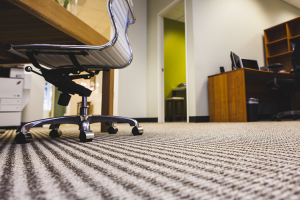 Commercial Carpet is constructed differently then residential carpet. In order to compensate for high foot traffic, the mills make the carpet a lower pile height that is packed tightly together. This gives the fiber additional support and increases its durability. The carpet can be either loop, cut pile or a mixture of the two.
Like residential carpet, commercial carpet can be constructed of different types of material. The majority of commercial carpeting is constructed with nylon pile. Nylon has memory retention and is inherently stain and mildew resistant. An additional layer of protection is added during the construction of the fiber and set with heat to protect the carpet from stains.
Installing commercial carpet requires a skilled professional. Gluing the carpet directly to the subfloor is not uncommon. Stretching the carpet over a dense felt pad can be an alternative for some applications. It is important to test concrete subfloors for moisture and maintain the proper temperature prior to and during the installation.  Once the installation is complete, it's important to follow the manufacturers post installation guidelines. Failing to follow the manufacturers guidelines voids the warranty and could cause the carpet to fail prematurely.