Laminate Flooring
Seattle | Bellevue | Redmond | Kirkland | Lynnwood | Everett | Edmonds | Bothell | Mill Creek | North King County | South Snohomish County
FREE In-Home Estimate
AFFORDABLE & BEAUTIFUL LAMINATE FLOORING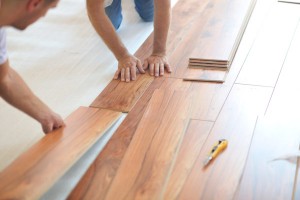 Laminate flooring is a great and affordable alternative to hardwood flooring. Invented in 1977 in Sweden, laminate flooring is a synthetic multi-layered product that is very durable and easy to maintain. Laminate has grown steadily in popularity over the last two decades and the technology has improved significantly.
Laminate Flooring has been marketed aggressively for Do-It-Yourselfers. But we often get calls from frustrated homeowners that attempt to install a laminate floor themselves and then need professional help to finish the job. The end result of your Laminate Floor will be greatly enhanced if installed by one of our experienced personnel. We have installed laminate flooring in Seattle, Lynnwood, Bothell and Everett.
Check out styles and colors on Shaw Industries Laminate Flooring web page.
ADVANTAGES OF LAMINATE FLOORING:
Durable
Cost Effective
Easy to Maintain
Can be installed over other smooth hard surface flooring
Realistic wood like appearance
How do I take care of my laminate floor? It is important to keep your laminate clean. Using a damp mop or pad and a cleaning solution recommended for the product, wipe entire floor clean of all dust and dirt. If moisture exists on floor after 10 min, wipe dry with a clean towel. Most brands are equipped with water-resistant coatings, but never allow water to pond or floor to remain wet for extended periods of time. Water spills aren't a problem but should be wiped up quickly, and not allowed to sit for a prolonged period of time.
Can a Laminate floor be repaired? Laminate floors can be repaired. It requires skill and some special tools. The process requires removing the entire damaged plank or planks and replacing them with the matching product. If you do not have the matching laminate planks you may be out of luck.
How long does it take to install a Laminate floor? Most jobs can be completed in a couple days. Installation time on a Laminate floor is dependant on the size, layout and preparation. If you would like more information contact TCB Carpets. We would be happy to give you an accurate estimate to include: cost, installation time, and details about the different brands, along with the advantages of each.